Since I (thanks to that fancy statscounter) finally figured out, that 99,7 % of the blog-visitors are germans, I will stop to post in english.

So, nochmal auf Deutsch:
Dank dem Statscounter hab ich festgestellt, dass 99,7% der Blog-Besucher deutsche sind. Folglich macht es wenig Sinn weiterhin auf englisch zu schreiben.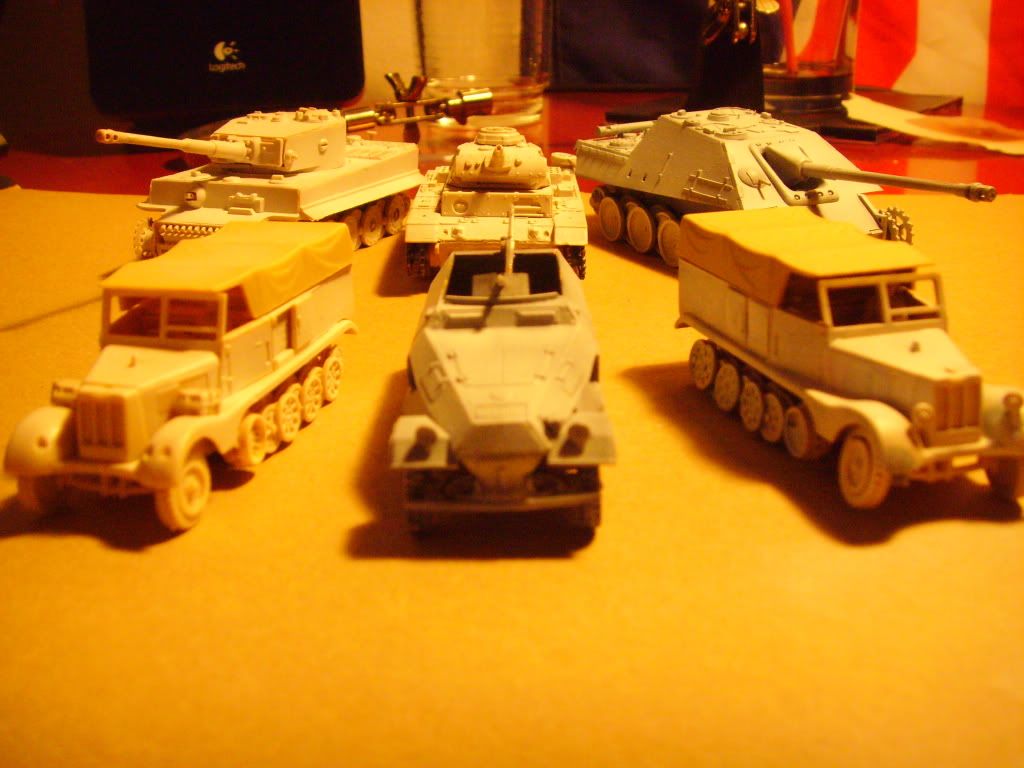 Also, es hat sich viel getan. Anfangen möchte ich mit einem kleinen Fortschrittsbericht in Sachen Paintjob für meine Behind Omaha - Wehrmachtsarmee:
Ich hab damit begonnen meine Fahrzeuge in weiss zu grundieren, damit sie eine einheitliche Basisfarbe haben. Das ist dringend notwendig, da die Airbrush Farben sehr dünn aufgetragen werden und Farbabeweichungen eventuell schonmal durchschimmern. Somit ist meine Armee für die Normandie wohl für kurze Zeit eher im Tarnschema des Ostens zu sehen.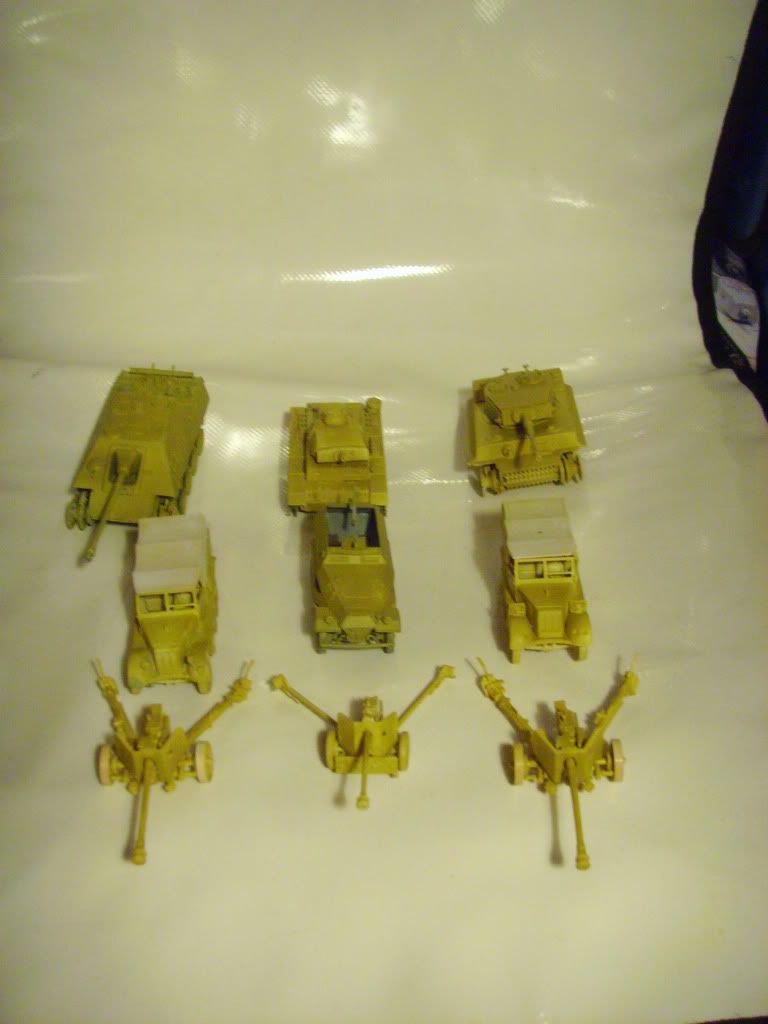 Nachdem die Grundschicht zwei Tage ausgetrocknen durfte, hab ich mit der eigentlichen Grundfarbe für mein Tarnschema (Licht&Schatten) begonnen. Jetzt ist alles "Panzergelb".
Sooo. Weiter gehts zum nächsten Thema: Terraforming respektive Geländebau... In einem vorhergehenden Post habe ich eine Methode zum Herstellen von Pflasterstraßen gezeigt. Diese sind inzwischen soweit fertig. Mit der Bemalung bin ich jedoch nicht so ganz zufrieden, sieht mir etwas lieblos aus. Vielleicht ändert sich da ja noch was: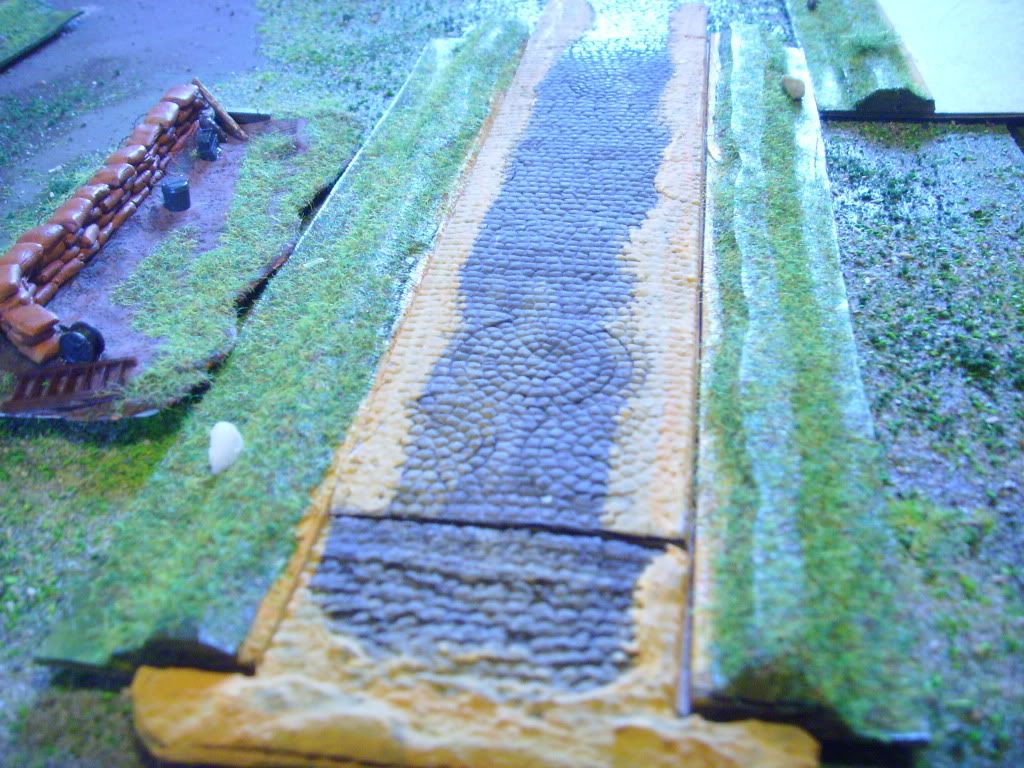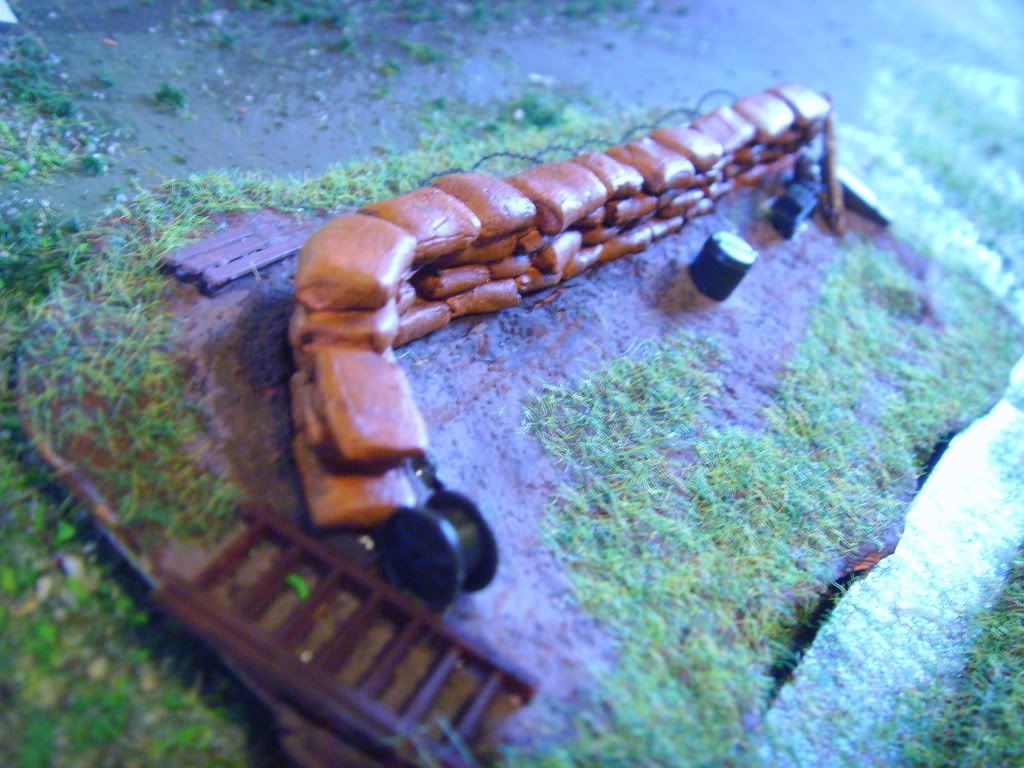 Im Post vom 14. März ist unter anderem eine Sandsack-Stellung zu sehen. Das Teil hab ich beim Tatort schaun aus EfaPlast (ein Lufttrocknende Modelliermasse von Eberhart Faber) geknetet. Die ist jetzt auch bemalt und bestreut.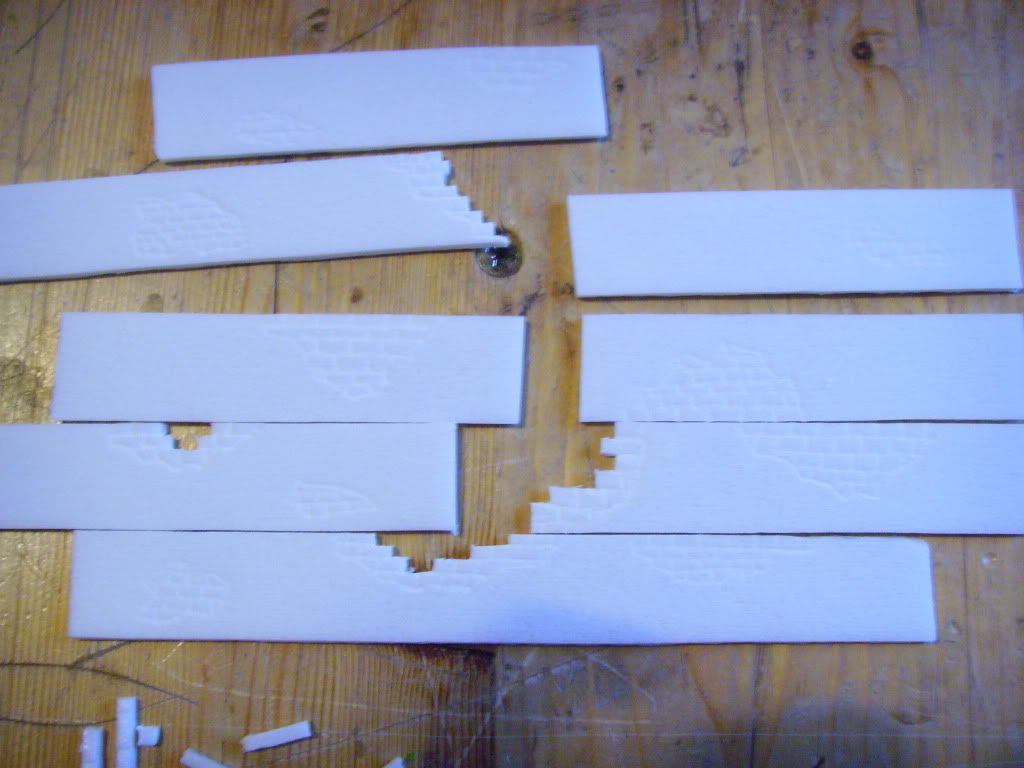 Die aktuellsten Geländebauprojekte sind momentan Mauern und Hecken als Drop-Ons. Für die Mauern wurde-wie für die Pflasterstraßen-Selitron verwendet. Auch hier wurden Teilweise einfach Strukturen eingeritzt. Die Mauer selbst soll schmutzig-weiß verputzt sein. Der Putz ist an einigen Stellen abgefallen, darunter sollen die Steine zum vorschein kommen. An einigen Stellen sind auch die Steine bereits weggebrochen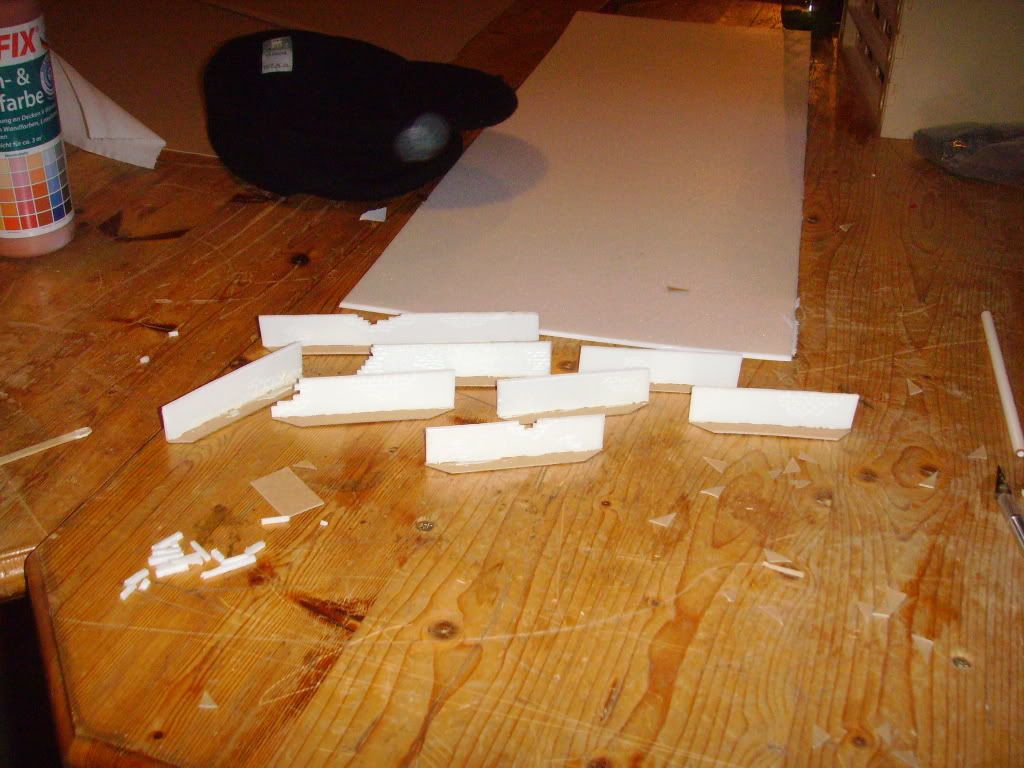 Nach dem Strukturieren und beschneiden habe ich die Mauern auf Papp-Bases geklebt und mit Wandfarbe grundiert. Dazu diente mir gewöhnliches Alpina-Weiss, gemischt mit einigen Tropfen schwarzer Abtönfarbe und Sand vom Spielplatz für die Struktur. Das muss erstmal Trocknen. Weiter gehts da am Montag.
Letzter Akt für heute: Büsche. Die sind noch sehr WIP... Ich habe einen Topf-Schwamm in etwa 7 mm dicke Scheiben geschnitten. Aus diesen Scheiben habe ich dann wiederum unterschiedlich hohe Streifen geschnitten. Damit das alles nicht viel zu glatt aussieht, habe ich es anschließend Teils mit der Schere, Teils mit den Fingernägeln ein Wenig zerrupft. Im nächsten Schitt werden die "Büsche" auf eine Böschung geklebt, grün grundiert und beflockt...
Hier schonmal der Anfang: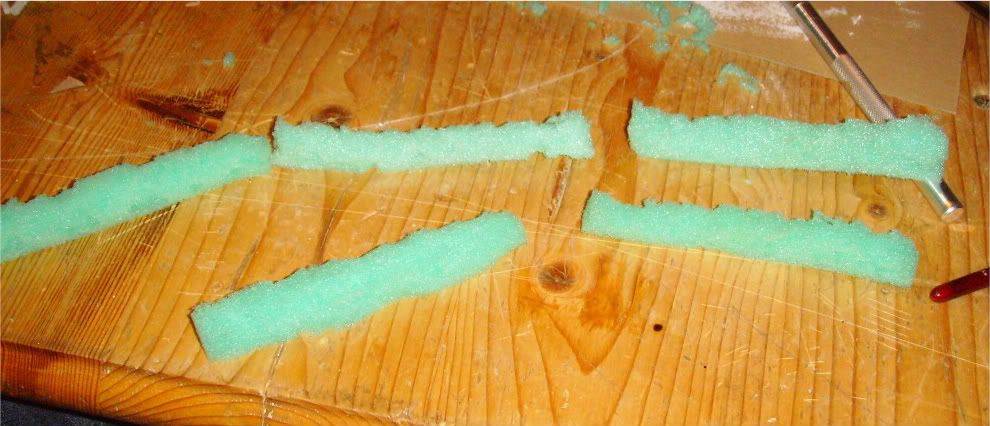 Und weil ich grad dabei bin, gewähre ich euch einen Ausblick auf unser aktuelles Spielfeld, auf dem wir am Montag ein kleines Match gespielt haben: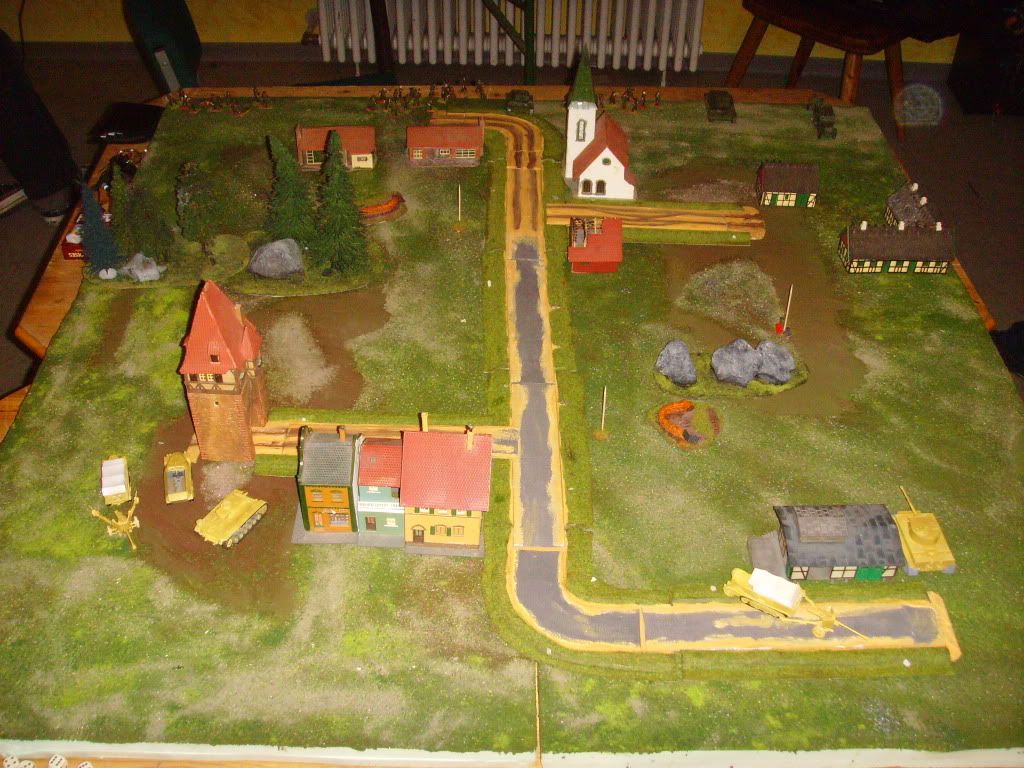 Nächste Woche gibts dann vielleicht wieder was neues...
Bis dahin... Good fight, good night.
//mojo